GREEN DESIGN




A common challenge for civil site design is complying with design requirements for National and Regional restrictions to storm water runoff and water quality regulations, as well as meeting design requirements of the developer/client/customer.
By maximizing the developable area of any given site we are providing a service to the client. More development area means more revenue and thus the project "pencils out" in the eyes of the developer. Sometimes in order to achieve the "penciled out" project we must think outside of the box with regards to water quality and storm runoff. Also, not all sites have adequate public drainage systems nearby to receive the newly increased runoff from a potential site.
Some of the past projects The Olympus Group has been involved with have faced and overcame these challenges. Some of the solutions included:
Hydromodification
Creating a project where storm water runoff is equal to or less than pre-project runoff conditions. Can help to reduce the "peak" for local storm drain systems that are inadequate.

Bio-swales
Slows the flow rate of runoff through small depressed landscaped channels. It also cleans stormwater of suspended solids, oils, and helps with hydromodification.

Bio-swales with detention
Same as above with settling ponds for area with a greater intensity of runoff.

Bio Infiltration
Landscape areas designed to receive storm runoff. Runoff enters designated area and infiltrates through engineered soils usually several feet in thickness. What does not infiltrate into the native soils is routed via subdrains to the local storm drain system. Helps with hydromodification.

Proprietary devices
Storm Filters and Filterra Units are utilized when higher density developments require less landscaped areas. Allowable proprietary devices vary between jurisdictions; however they are becoming increasingly more common, with pilot programs available to the developer in many cases.

Permeable Interlocking Concrete Pavers
Pavers are used in large areas such as parking lots, driveways and roadways. It reduces "heat island effect" and helps with Hydromodification, and cools runoff before it enters local streams and rivers. It replaces traditional asphalt concrete surface with brick like pavers that have "voids" around all edges. With compressive strength equal to concrete, pavers allow storm runoff to infiltrate into the engineered sub grade section. Pavers act both to treat storm water runoff, and as underground detention. Some designs include sub-drains to slowly dissipate detained water to the nearby storm drain system, or where poor soils exist.

Pictured Right - Reviewing Permeable Interlocking Concrete Paver (PICP) design and install for a planned case study. 35,000 square feet of PICP's for a new Safeway marketplace in Fair Oaks, CA. (L to R: Bill Hunt, PhD, PE, Associate Professor and Extension Specialist - Stormwater Management Division, NC State University. Chuck Taylor, General Manager, Advanced Pavement Technology - Oswego Illinois. Rich Francis, Managing Director, The Olympus Group (Fair Oaks Promenade design team member), Gene Weddell, Belgard/Old Castle - not pictured.)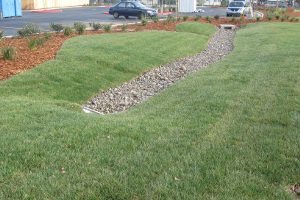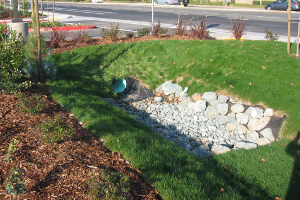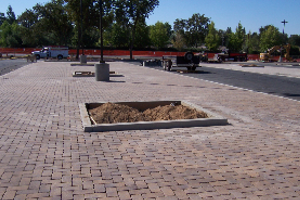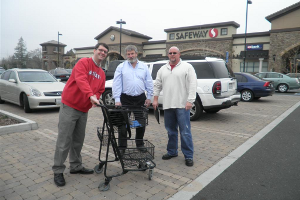 The Olympus Group recognizes these important factors upfront. With help from the Architect and Developer, we will create a cohesive site plan that maximizes developable area, which also provides adequate landscape area to incorporate any of the above design features, in order to meet the needs of the specific project.